Custom Hermetic Vacuum Flanges
Hermetically sealed custom vacuum flanges are one of our specialities and they are very popular in military, aerospace, space simulation and University laboratories. Our custom vacuum flanges are recognised for their reliability, durability and performance.
The custom vacuum flanges are used to create a connection between equipment inside a vacuum chamber and the outside world. The custom vacuum flanges can have a multitude of hermetic feedthrough connectors pre-assembled onto plates/flanges as per customer specifications.
Our engineering and manufacturing team have the capabilities to produce the ideal vacuum flange, fitted with all of your feedthroughs to offer improved value and performance and ultimately the ideal solution to meet your requirements.
Types of Flange
Custom hermetic vacuum flanges can be pre-assembled with wire or connector feedthroughs that your application specifies for your vacuum chamber. Some flange examples:
Otherwise known as a Conflat Flange, for processes requiring high vacuum pressures, down to 10-12 Torr
KF or Quick Custom Flange
For high vacuum pressures down to 10-9 Torr. Sizes are KF10, KF16, KF25, KF40 and KF50.
For high vacuum pressures down to 10-6 Torr.
Concept
Our engineering team are ready to assist you with your custom vacuum flange and they can offer guidance and recommendations for the optimum custom vacuum flange design.  We require some information from your team to outline:
Type of flange: CF (Conflat), ISO-K, KF / QF (if known)
If not – Approx. Size of flange required
Material of flange
How many connectors
What type of connectors (D-Sub feedthrough –standard or high density, Coax feedthrough, Thermocouple feedthrough)
Connector orientation of gender for vacuum / air side?
eg 15 pin D-sub Male to Female – male vacuum side, female air side.
Layout preference (either a sketch or detailed drawing)
Vacuum / pressure level
Gases / Liquids present
Temperatures subjected to
When our engineering team have all of the information required, we will then send a formal quotation and lead time.
Custom Vacuum Flange Design
When you are 100% happy with your custom vacuum flange requirements, our engineering team will then get to work generating a detailed engineering drawing.  This will be sent to you, to review and approve.  If there are any alterations required to ensure the perfect solution, we can accommodate this for you.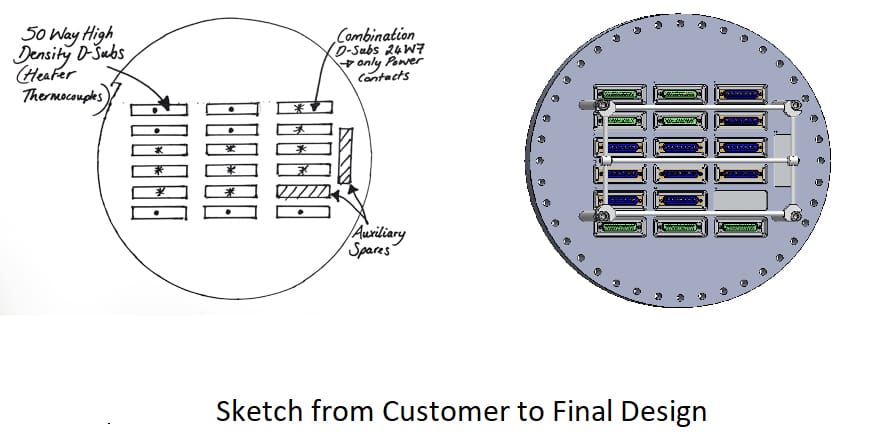 Production and Testing
On receipt of your order and all approvals from you, our team will commence with production.  All custom flanges are 100% leak tested prior to ensure unbeatable quality.
Enquire About This Product
"*" indicates required fields
Whether you require one custom vacuum flange or a large quantity, for further information or to discuss your requirements with our team, please contact us.